SCROLL

How to Play
1. Make an avatar appear with AR!
Tap a flat surface, such as the ground or a table. You can display your avatar on a flat surface.
If this does not work, the flat surface that the camera is recognizing may be too narrow.
Try moving your smartphone to a position where you can see a wider surface by moving an object away.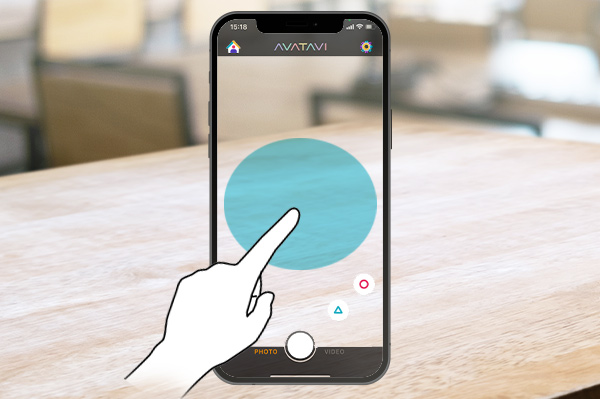 2. Let's move the avatar!
Tap the lower left area to bring up the "Move Cursor". Move the cursor up, down, left, or right to move the avatar.
A small slide of the cursor slows down the movement speed, while a large slide speeds it up.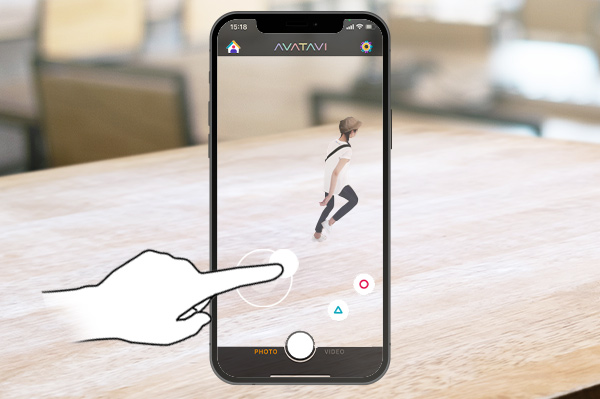 3. Use the motion function!
The two buttons in the lower right corner are both motion buttons. Tap them to make them jump, dance, etc.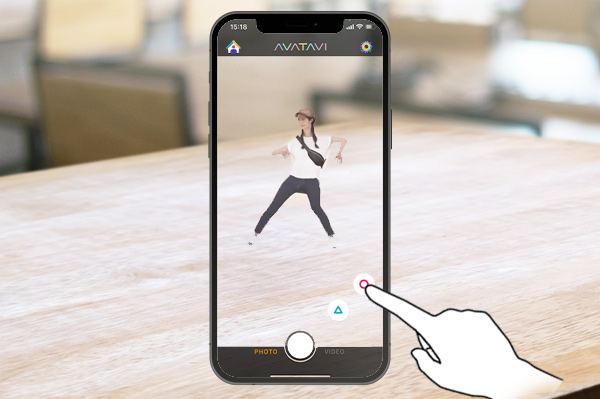 4. Change the motions!
Pressing and holding a motion button will cause a motion circle to appear, allowing you to change the assignment to the button.
[ Motion set by default. ]
LEFT : Jump / RIGHT : Cute pose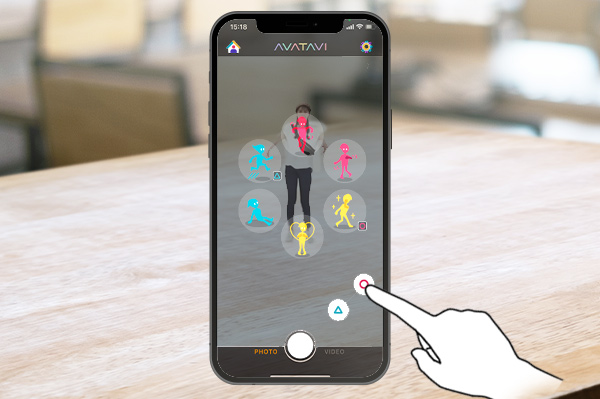 5. Enlarge or shrink avatar.
Swipe the play screen with two fingers to change the size of your avatar.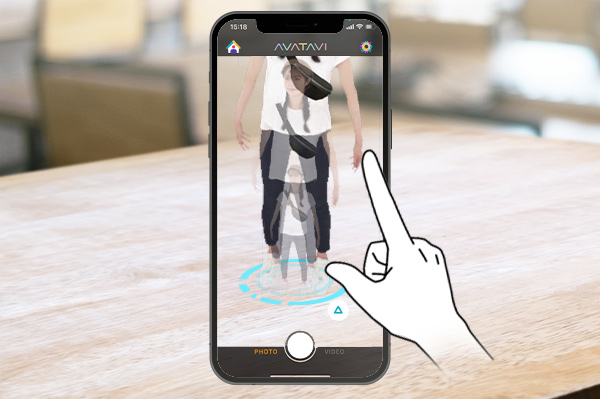 6. Change your avatar!
From the Home button, you can open the Avatar Box. By selecting an avatar stored here, you can change the avatar that appears.
To play with your new avatar, tap the "Back" button in the upper left corner to go to the play screen.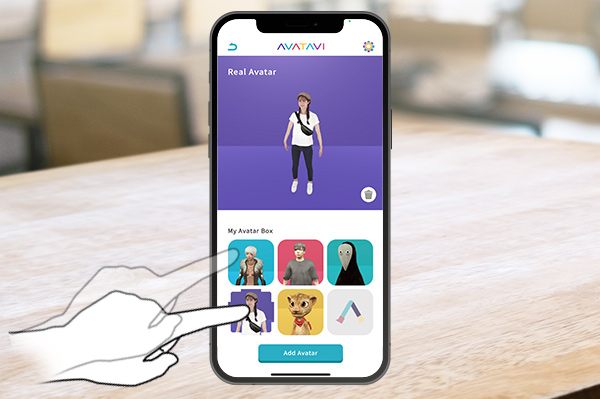 How to add new avatar
Go to the Add Avatar screen.
Tap [Add Avatar] under the My Avatar box on the home screen to go to the Add Avatar screen.
If your My Avatar Box is full, you will not be able to move to the next page. Please delete the avatars you do not need.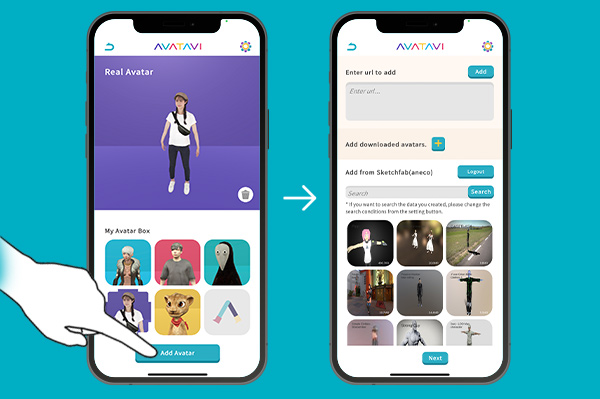 Add from Sketchfab
With AVATAVI, you can search and add data published by creators around the world by logging into Sketchfab.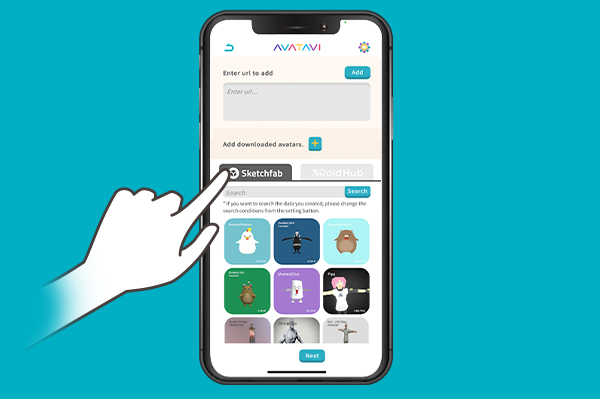 Add from VRoidHub
AVATAVI allows you to add your own VRoid and favorite avatars by logging in to the VRoidHub.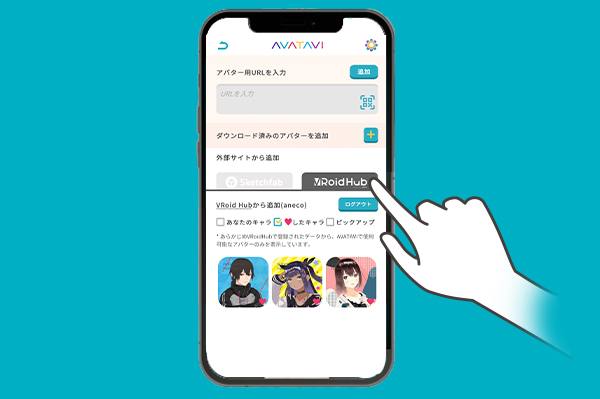 To add an avatar by entering a URL, Example 1
For CG creation services that issue a URL upon completion, paste the URL as is.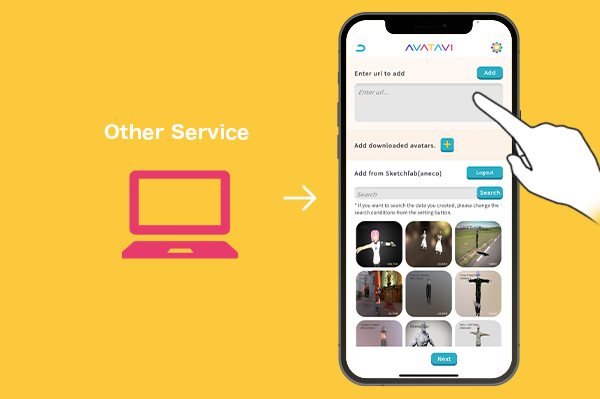 To add an avatar by entering a URL, Example 2
If you are distributing your own CG, your own real avatar, or official characters Please save the necessary data in a zip file and paste the URL of where you saved it.
Addable data formats : fbx, vrm, gltf, glb, + zip
Additional texture formats : bmp, gif, jpg, png, psd, tga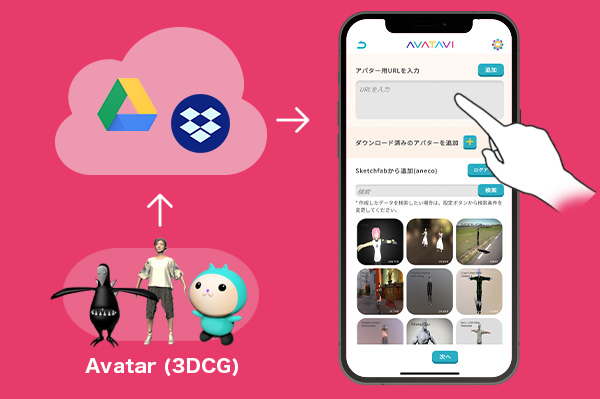 Bone correspondence chart for creating avatars